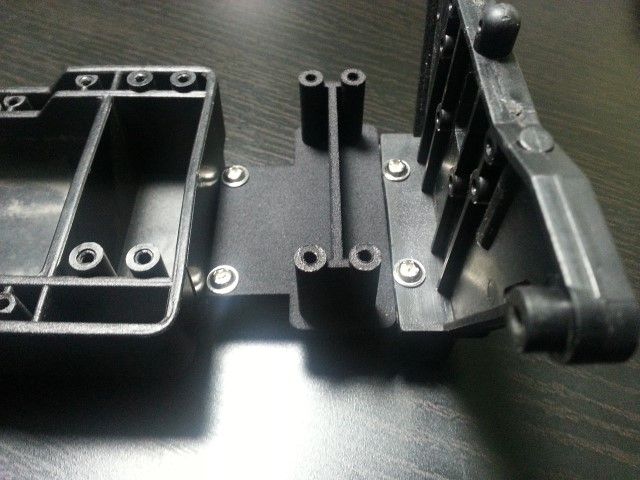 Extended Traxxas Stampede
I've been planning a Stampede build with a set of ProLine Destroyer tires and Brawler wheels. I wanted to lengthen the chassis a bit and use a longer body. With the use of RPM's wide a-arms in the front, I should be able to build a wider and longer stampede. I'll be installing a brushless motor and lipo batteries to get it moving.
This extension will make the chassis 40mm longer than stock, which is just about what I need to use the E-Maxx body that I have. The extension fits between the rear of the chassis and the front of the rear shock mount. It uses the same mounting hole dimensions as the chassis and shock tower, so there is no need to modify either of those two parts to attach it. The only modification that needs to be made is to the chassis. I will have to drill new holes for the rear chassis brace. I designed the part so I can attach the stock electronics tray to it. This will help to keep the weight of the electronics near the rear of the truck to help offset the forward weight of the battery. I'll have to make a new hold down to retain the rear of the battery.
This part can be downloaded or purchased from my shapeways store: https://www.shapeways.com/product/33M68X6AA/stampede-chassis-extension
Here are some photos: